Snorkeling - Samui Boat Charter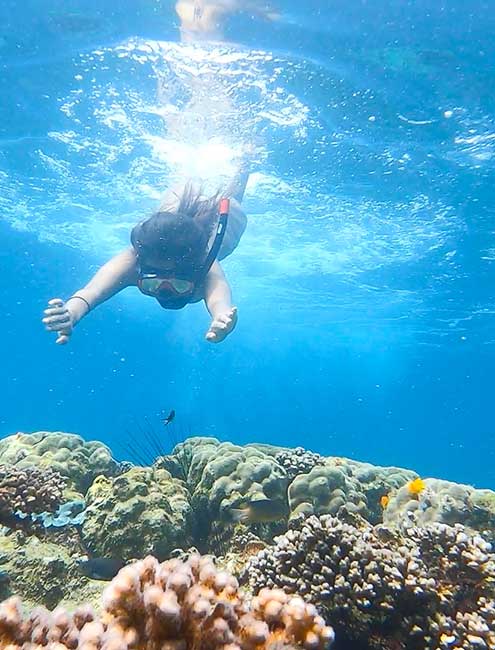 Samui Boat Charter and the team offers the best snorkeling in the Gulf of Thailand.
We will take you on a guided tour to some of the most amazing snorkeling sites and beautiful beaches that the Gulf of Thailand has to offer you:
Koh Tao & Koh Nang Yuan:
Snorkeling at Koh Tao & Koh Nang Yuan is renowned all over the world and also well known for divers to come and complete their training towards being a diving instructor. This is a truly remarkable snorkeling destination for clients that want to see the best of the best, crystal clear water thriving with the most beautiful tropical fish, octopus, turtles & rays and may be catch the occasional glimpse of a whale shark?
Koh Tao & Koh Nang Yuan have everything to offer for the perfect all day snorkeling tour, great for those of you with sea legs and gills!
Angthong National Marine Park:
Angthong National Marine Park is the Jewel of the Gulf of Thailand. With beautiful clear waters, snorkeling around Koh Wao Yai to the North is perfect for all levels of enthusiast. Home to secluded white sandy beaches, sightseeing and viewpoints with amazing panoramic views overlooking the Marine Park offers great photo opportunities. Enjoy a 5 star lunch at the Fisherman's Village within the Marine Park and finish the day with a short guided kayak around 'James Bond Island'. An exciting fun filled day for all groups, families and business clientele.
Koh Phangan:
Is easily seen from the North of Koh Samui, a very elegant and beautiful island, peaceful outside of the full-moon period and has some of the most fantastic picturesque views and beaches out of all the islands in the southern gulf of Thailand. Thong Nai Pan Noi / Yai and Bottle beach are 3 of the best beaches around the coast of Koh Phangan and with the restaurants to follow. Koh Ma on the North West of the island will give you the best snorkeling and is also very popular with divers, shallow coral reefs leading in to deep waters with a great beach to lounge on and also a wonderful restaurant to dine from.
Perfect for those of you that would like a lazy quiet day.
Koh Tean & Koh Madsum:
Is a short journey around to the southern side of Samui Island, great for those who want to skip timely boat excursions and potential rough seas. Koh Tean & Koh Madsum are two very beautiful small islands, home to clear waters thriving with marine life, beautiful white sandy beaches and traditional Thai restaurants, fantastic for all occasions & clients.